The World CIO 200 2020 Roadshow concludes with a power-packed finale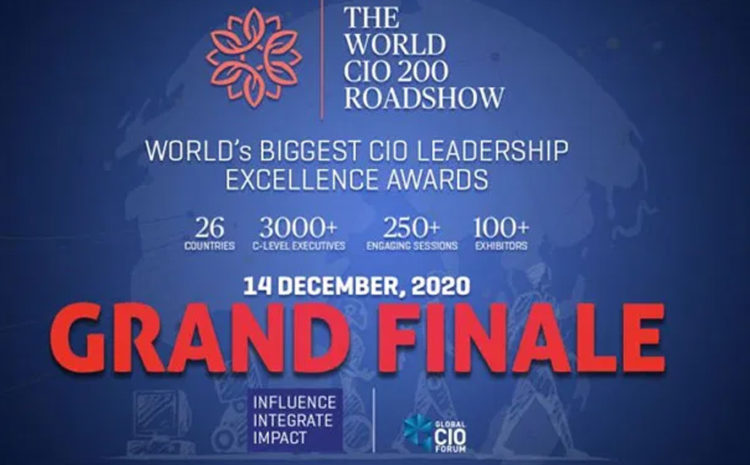 Over a month and 26 countries later, the World CIO 200 2020 Roadshow culminated in a grand finale on December 14. It brought together some of the biggest names in technology, and included a series of insightful presentations and incisive panel discussions.
Organised by the Global CIO Forum, GCF, the event engaged 2000+ CIOs and over 3200 C-level execs, while bringing in audiences from all over the world, and reflected the global reach of GCF. It also highlighted the fact that the global community of CIOs stands united in dealing with the Covid-crisis that is impacting everyone.
The roadshow was flagged off on November 23, in Qatar, and made its way around the world in the following weeks, with stopover in Saudi Arabia, Kuwait, the APAC region and Pakistan.
A unique approach
In keeping with the new normal, the presentations and panel discussions unfolded in a virtual convention centre that simulated features you would expect from a real convention centre. Participants could browse through sponsor booths, expo halls, networking lounges, hall of fame, visit the main auditorium where live sessions were hosted, or indulge in fun activities such as embarking on a treasure hunt or getting their images clicked at a photo booth.
Another refreshing feature, which was also critically praised, were the cross-border panels that brought together panelists from four different countries, including one from the host country. This ensured that a diverse range of perspectives were available for audiences to absorb and learn from.
The agenda
This year, the grand finale brought together an impressive lineup of speakers and topics. They covered various subject matters related to HX, BX and TX. That is, human transformation, technology transformation and business transformation…. These were also the three key pillars of The World CIO 200 Summit.
| | | | |
| --- | --- | --- | --- |
| UAE Time (GST) | Session | Name | Designation |
| 11:15 AM | Welcome Note | Anushree Dixit | Global Head Content & Strategic Alliances, GEC Media Group |
| 11:25 AM | Global Keynote | Ronak Samantaray | Co-Founder, Global CIO Forum | CEO, GEC Media Group |
| 11:35 AM | Global research insights and the way forward | Manoj Saxena | Chairman, RosettaNet Singapore, Global Advisory Board, Global CIO Forum |
| 11:51 AM | The CIO and THE SECRET SAUCE | Andrew Bryant, Founder of Self Leadership International. | Founder of Self Leadership International |
| 12:05 PM | Leading through disruption | Will Alexander | CIO, Benevis |
| 12:20 PM | Keynote | Samer Semaan | Channel Manager, Middle East, Pure Storage |
| 12:35 PM | Global Keynote | Gitanjali JP | Founding CEO, Himalayan Institute of Alternatives |
| 12:50 PM | | CIO 200 – UAE Edition | |
| 1:00 PM | Panel Discussion | Technology Leadership Panel Discussion | |
| | | Samir Chopra | CEO & Founder, RNS Technology Services |
| | | Abdul Rehman Tariq Butt | Regional Sales Director, Pulse Secure |
| | | Amjad Boka | Senior Systems Engineer, Pure Storage |
| | | Sunando Chaudhuri | Senior Information Technology Advisor, ADNEC |
| | | Faisil Syed | Digital Transformation Project Manager, SEHA |
| | | Arun Shankar (Moderator) | Editor, GEC Media Group |
| 1:45 AM | Corporate Wellness Culture – Need of the Hour in the Post Pandemic World | Ektaa Sibal | |
| 1:58 AM | | CIO 200 – UAE Edition | |
| 2:00 PM | Panel Discussion | Cross Border Panel Discussion – Powered by TechnePlus | |
| | Egypt | Tharwat Soliman | IT Manager, Audio Technology |
| | UAE | Lt Colonel Dr Hamad Khalifa Al Nueimi, | Head of Telecom Division, Infrastructure Dept ICT Center, Abu Dhabi Police GHQ |
| | Vietnam | Khuong Tran | CIO, TTC Sugar |
| | Bahrain | Abubakar Arshad | Director of Cybersecurity, BNET |
| | Singapore | Roger Lee | Director of the Singapore Institute of Materials Management and the Vice Chairman of the Asia Pacific Logistics Federation |
| | | Manoj Saxena (Moderator) | Chairman, RosettaNet Singapore GS1 digital standards consortium. Global Advisory Board, Global CIO Forum |
| 2:45 PM | Growth and renewal- CIO to Business leader | Dr Deep Bali | CEO-founder Boma India | Executive Coach | Author | Speaker |
| 2:59 PM | | CIO 200 – UAE Edition | |
| 3:00 PM | Panel Discussion | 2021 and Beyond – Transforming Lives and Business with Leadership | |
| | | Santosh Nair | Regional Head of IT User Engagement & Partner Management, (Asia Pacific, Middle East & Africa), Siemens |
| | | Richard Farmer | Partner, The MitchelLake Group |
| | | Saket Gore | CEO, APAC, The Himalaya Drug Company |
| | | Venkatesh Mahadevan | CIO, Dubai Investment and Founder of ZENPod |
| | | Ajay Rathi | VP, IT, Damac Group |
| | | Malavika Shanker (Moderator) | President SEA GEC Media Group |
| 3:45 PM | Leadership traits in today's world | Fabia Tetteroo-Bueno | Senior Vice President and General Manager, Philips Latin America |
| 4:00 AM | | Dr Mohammed Khaled, VP – Critical Infrastructure Protections and Resilience | Abu Dhabi Government |
| 6:00 AM | | Dr Erdal Ozkaya, Regional CISO | Standard Chartered Bank |
| | DX Inspire Awards | | |
BOTS 3.0
The World CIO 200 Roadshow finale was also an occasion to release BOTS, the Book of Titans, that features CIOs who have executed exemplary projects during the year. This year, BOTS 3.0 features projects that fulfilled the demands of the pandemic-driven workforce, enabled remotely working employees, empowered access to data anywhere, and much more. The handbook features 200 CIOs whose projects stood out from over 2000 nominations that came in from 26 countries. The key criteria was the sheer sense of urgency that the CIOs showed in bringing in the right solutions at the right time.
In short, BOTS is not only about the highest-valued projects or projects that involved complex decision making and multiple stakeholders. This year, BOTS is all about the simplest of the projects that made a difference to the organisation during this tough time.
Event partners
Apart from a global community of CIOs, the roadshow was supported by a roster of partners that included Dell Technologies, Mindware, Pure Storage, Juniper Networks, Finesse, Rubrik, Rittal ME, Exclusive Networks, RNS Technology Services, Malco Technologies, F5, Pulse Secure, Veritas, MDS, Infocomm Media Development Authority, Rosettanet Singapore, Bahrain Shura Council, Strategic Plus, AI Society Bahrain, Ghana Chamber of Technology, Women in Tech Africa, Seaburger Business Integration, SealNet, GETS, Techneplus, Ministry of Higher Education Research and Innovation, GEO News, Intellizest, Open Text, Singapore Indian Chamber of Commerce and Industry, Lingaro, C2F0, Pakistan Software Export Board, Ministry of Information Technology and Telecommunication Pakistan.
Coming up in 2021
Global CIO Forum also announced a slew of exciting initiatives for 2021. Some of the upcoming offerings are:
GCF Recognition & Reward Programme: GCF members now can commemorate and celebrate notable events and outstanding achievements with custom awards, badges and certificates with each other. Each badge even includes a printable certificate along with globally redeemable points.
Impact Awards Programme: The GCF Impact Awards recognise the outstanding contributions of GCF members.
Thought Leadership Councils: Bringing together global leadership coaches & leaders to do "brain trust" to problem-solve the challenges we all share in our roles every day & prepare ourself for future business leaders.
Mentorship Programme: The Mentorship Programme, free to all Global CIO Forum members and their direct reports, continues to demonstrate our dedication to growing and supporting current and emerging IT leaders.
GCF VirtualSummit: CIO Connect is a virtual roundtable exchange of ideas that promotes learning as well as networking.
Events: GCF continues to serve members with virtual education and networking opportunities, until it is safe to meet in person.
Local Chapters: Chapters continue to offer both education and networking opportunities during this challenging time. Connect with your local leadership team.
CISO Division: The CISO Division is a forum where CISO's can network, share ideas, offer CISO support and learn from each other.