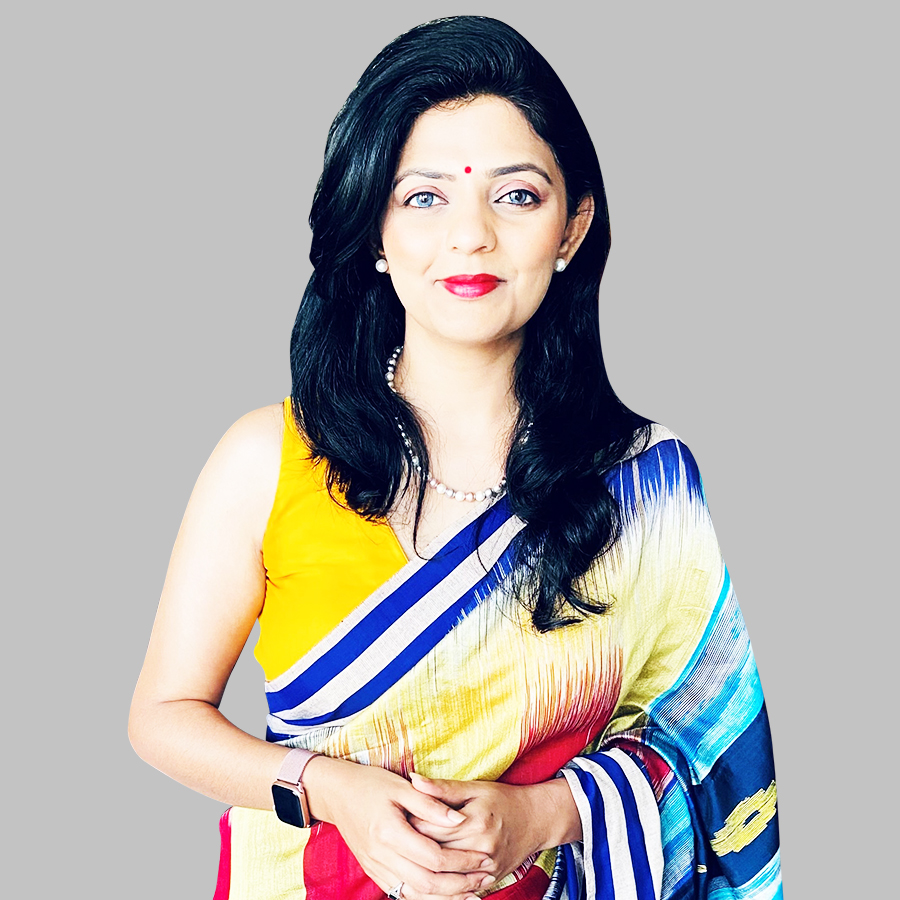 Dr. Ektaa Sibal
Global Wellness Ambassador/Global CIO Forum
Ektaa is a renowned International Speaker, an International Meditation Guru, a Global Wellness Coach, award winning India's #1 Inner-Self Transformation Specialist, and a Globally recognized Gifted Energy Healer and also is the National Wellbeing Advisor to Shipping Corporation of India, Ministry of Shipping, Govt of India.
She has also received her PhD Degree (Honoris Causa) by California Public University (USA) for her work in the field of Meditation, Mental Wellbeing & Executive Leadership Transformation.
Ektaa works by Transforming individuals on a Physical, Emotional, Mental and Spiritual level bringing the body, mind and soul into balance and harmony. Ektaa for over a decade has been promoting Wellbeing through Inner-self Transformation, Mindful Meditation, Spirituality, and Holistic Well-being in all dimensions. She's a certified Wellness and Life Coach. She has had several events in India, abroad across Europe, UAE South East Asia where she's often invited for her keynote addressing the Global Corporate Leaders on Wellbeing and Meditation.
She Authors her own Column "Discover to Uncover" by Ektaa Sibal on Times of India and has shared her views on Wellbeing with various dignitaries such as Ambassadors' of various Countries, Top active Political Leaders of the Country and also the then Hon'ble Vice President of India, Shri Venkaiah Naidu. Ektaa was Guest of Honor and inaugurated the 3rd CSR Summit along with Shri Murli Manohar Joshi, former President BJP & Mr. Shekhar Dutt – Former Defense Secretary and Deputy National Security Advisor of India held at Dr.Ambedkar International Centre, New Delhi.
Ektaa is also on the Expert Panel of BPositive by Apollo Group as a Spiritual Healer and an International Meditation Expert; along with Sadhguru and Sri Sri Ravishankar. She is also the "Global Wellness Ambassador" for Global CIO Forum - which connects more than 50,000+ Top Global Corporate Leaders from across the Globe.
Ektaa was invited to conduct her Signature Masterclass on "Spiritual Fitness" at "The SoulProject"-India's Biggest Wellness Festival hosted by DLF; followed by Philip Kotler Awards at Vigyan Bhawan, New Delhi where Ektaa was the Guest of Honor and spoke upon Sustainable Development, Mental Health & Combating Stress. Hon'ble Prime Minister of India, Shri Narendra Modi is also the recipient of the Philip Kotler Presidential Award.
Foreseeing the impact of Pandemic, Ektaa launched the National Wellbeing Campaign and carried out various initiatives to support people emotionally where she was invited by several Hospitals, Schools, and Global Corporations to conduct her Signature Programs on Wellbeing and Meditation, both Nationally and Internationally as her National Wellbeing Campaign also transformed into a Global Wellbeing Campaign.
Times of India has also Produced and Launched several Episodes of Ektaa Sibal on various subjects, from being featured on the front page of TOI and Economic Times to being featured Several Times on Cover Page of International Publications; Ektaa's articles on Wellbeing, Meditation Leadership are regularly published in reputed Top National/International Publications.
Among many accolades, in June 2022, Ektaa was on the CoverPage of the International Publication "Business Transformation Asia" and is also listed among 'TOP 50' Business Transformation Global Transformation Champions & Leaders. Ektaa is recipient of many prestigious Awards & Honors by leading Political leaders of the country, for her consistent ongoing efforts in the field of Wellness, she was awarded the "The Fit and Fab" Award, along with Celebrities like Anil Kapoor, Shilpa Shetty, Raveena Tandon, Ayush Sharma etc and is among most influential Fitness and Wellness' Icons of India.
As India's #1 Inner-self Transformation Specialist, she has transformed the lives of many Individuals, Business Leaders, Professionals, Top Global Executives, Industrialists and Active Political Leaders of the Country. In 2020 and 2021 amidst lockdown Ektaa conducted over 500+ virtual sessions and coaching sessions. Having touched more than a lakh+ lives, many noted National, Government, International Corporate and other Education, Healthcare, Media Bodies recognize her work. To name a few of the Prestigious Indian and Global Brands where Ektaa has conducted her Signature Programs are Coca-Cola (GCC Countries) Apollo Hospital, Narayana Health Hospital, India & Cayman Islands, Capital Health Hospitals Abu Dhabi, JW Marriot, Delhi Public School, Shipping Corporation of India, Ministry of Shipping est, Unite - Global CIO Forum 40 Countries and many more.
Day 2
Moving towards Self Awareness, Acceptance & Agility
Dr. Ektaa Sibal
Global Wellness Ambassador/Global CIO Forum.
Day 2
Redefining yourself using High Power Habits
Dr. Ektaa Sibal
Global Wellness Ambassador/Global CIO Forum.