The World CIO 200 India in-person event, recognises top CIOs, stages panel discussions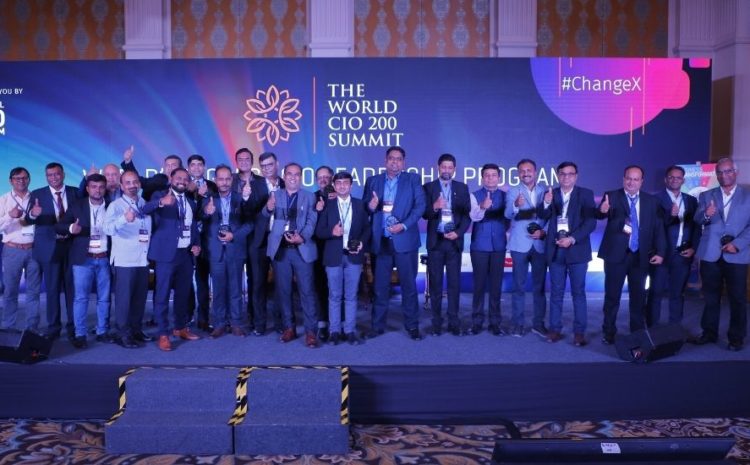 Taking the first huge leap in the land of the Asian subcontinent, Global CIO Forum organised the World CIO 200 Summit – India Edition an in-person event at Hotel Leela Palace, New Delhi on 8th November 2021 amidst renowned luminaries and subject experts.
The event took place in the presence of guest of honour Vinit Goenka, who is also a Member of the Governing Council at CRIS, Dr Sandeep Marwah, Founder Noida Film City, President Marwah Studios, and Chancellor AAFT University and Manoj Kohli, Country Head of SoftBank India. The World CIO 200 Summit – India Edition was also attended by the top CIOs of the country.
---
GEC Media Group also unveiled the Business Transformation Asia edition magazine on the side-lines of the World CIO 200 Summit – India edition.
The event partners of The World CIO 200 Summit were Infoblox, F5, Exclusive Networks, BMB, Laserfiche Veritas, Finesse and Arcon. The World CIO 200 Summit has four award categories including Legend CIO, Leader CIO, Master CIO, and Next-generation CIO. Track updates of our events through the latest World CIO 200 Summit images available in Flickr.
Ronak Samantaray, CEO, GEC Media Group and Sundip Sibal Executive Director and President of International Affairs, GEC Media Group started the event with their welcome note and extended gratitude to all the guests for attending the event in person.
Speaking at the event, Ronak Samantaray, CEO, GEC Media Group said, "As the fastest growing media, events and research company, GEC Media Group has always adopted the mantra of being innovative, transformative, and steadfast to the market. Our efforts, services, and offerings are aligned towards being the singular voice for the IT and business ecosystem. Today, we are extremely proud to be unveiling BT Asia during the World CIO 200 India edition, in a country that goes above and beyond when it comes to 'Transformation' from not only a technology but varied industry point of view as well. This is a crucial step towards further establishing our commitment to the region in terms of bringing the best of content and success stories of the continent."
---
Talking about the launch of BT Asia, Sundip Sibal said
"The Asia Pacific is on a high growth radar as experts predict internet sectors in the region to hit $300 Billion by 2025, thereby increasing the drive for 'digital connect'. The launch of Business Transformation Asia comes at the right time, and aspires to be the VOICE of the continent where these digital-first and digital-only businesses are on the track to rewrite customer experience models," said Sundip Sibal Executive Director and President of International Affairs, GEC Media Group.
The event also recognised leading CIOs in three categories – Legends, Leaders, and Masters.
Global CIO Forum is a non-profit community of CIOs and IT leaders with the mission of facilitating networking, sharing of best practices, executive development, and collaboration on issues faced by the CIOs and the IT Executives. It is a vendor-neutral community for the safe exchange of ideas and best practices. The network of 30,000+ strong of C-level executives, spread across 4 continents and 30 countries, also serves as the voice of the community to ensure that CIOs are represented at key industry and government decision tables.
Founded in 2012, GEC Media Group is a leading media and research company. Over the years, it has expanded well beyond the flagship technology publication to provide senior leaders across the enterprise with indispensable business insights whilst forging cross-border knowledge sharing, facilitating the advice and tools they need to achieve their mission-critical priorities and build their company for next-generation.
Here are the highlights of the various speaker keynote presentations.
---
Holistic wellbeing matters – Transformation through Corporate Wellness Culture
Ektaa Sibal is a globally renowned gifted energy healer, an International Meditation Expert and award-winning India's number one Inner- self Transformation Specialist. She is also the National Wellbeing Advisor to Shipping Corporation of India – Ministry of Shipping Enterprise. She also works closely in the mental health and well-being space and is often invited by global brands to speak on mental and emotional well-being. During the event, she has conducted a short meditation session and brief about its benefits.
---
How ESG will Transform Business
The panel discussion on How ESG will Transform Business was chaired by Prakash Kumar, CEO, Wadhwani Institute of Technology and Policy and former CEO of Goods and Service Tax Network. with panelists including Richard Rekhy, Board Member – KPMG Dubai and Former CEO, KPMG India and Dipankar Ghosh, Partner and Leader – Sustainability, Climate Change and ESG, Thinkthrough Consulting. The leaders highlighted environmental stewardship, social responsibility and persistent control are now the responsibility of the entire human race.
They also talked about the perils of climate change and how it is impacting our society. As a country and as corporate citizens, we must be careful about our SDG responsibilities.
---
Infrastructure Sector Transformation
Speaking at the event, Tanmoy Chakrabarty, Group Government Affairs Officer, Tata Sons talked about the rapid transformation in the infrastructure sector and some major challenges faced by the country during the pandemic. He added from the technology point the prioritisation should be on prefabricating housing so that it can come in as a major element and peace to be able to plug Millions of homes you must build as a country to be able to convert our slums in the cities into residential areas.
---
Digital Technologies in Enabling business transformation
The panel discussion was moderated by Arun Shankar, Editor of GEC Media Group with panelists including Hilal Khan, Vice-President, and Operating Head-IT, Honda Cars India Limited, Dr Deepak Kalambkar, VP Infosec, Paygate India Private Limited, Neeti Wahi, Group Chief Information and Digital Officer, Sterlite Power and Jai Mrug, CEO of M76 Analytics.
Shankar said that the role of digital technologies in enabling the transformation of business across industries such as manufacturing of automobiles, distribution of power, and its impact on various tools such as compliance and big data and analytics. He also raised questions including:
How do you see organisations reinventing themselves to keep pace with the socio-economic changes and to ensure their future growth?
In 2022 and ahead what technologies will be driving business transformation in your industries.
Is the concept of a well-integrated front office, middle office, back office, sufficient to measure the effectiveness of digital transformation?
---
The emergence of the Transformational CIO
Pramod Agarwal, CTO, Automation Anywhere chaired the panel discussion on Emergence of the Transformational CIO with leaders including Ramkumar Mohan, CIO, Air Works India Engineering Private Limited and Dr Sushil Kumar Meher, Head IT, AIIMS and discussed the evolving role of the CIO has experienced a drastic transformation to keep up with changing organisational cultures and expectations in today's business landscape of digital transformation.
Shubhendu Parth, Group Editor, GEC Media Group concluded the event with the Vote of Thanks and said, "Transformation has taken the world by storm and left no sectors untouched. The pandemic was an eye-opener for this. Businesses realised that it is a do-or-die situation for them and those that do not shed legacy infrastructure will see doom. We are extremely happy to be launching the much-awaited 'Business Transformation- Asia magazine that will put forth the continent's success stories and strides in digital and business transformation use cases from a government, public and private sector point of view. Business Transformation Asia will take the lead in bridging the gap between the business and their technological needs in all the manners required. All our keynote speakers at the event today have highlighted this fact and emphasised how business, technology, and customers walk hand-in-hand in this transformation."
---
The announced winners of The World CIO 200 Summit – India edition Legend category include:
| | | |
| --- | --- | --- |
| Name | Category | Designation |
| Alok Khanna | Legend | Executive Director |
| Abhishek Agarwal | Legend | Head IT and Chief General Manager |
| Ajit Singh Nawale | Legend | Head-Information Technology |
| Amrut Urkude | Legend | CIO and Corporate HR |
| Anand Sinha | Legend | CIO and Director IT |
| Anuroop Sundd | Legend | IT Director |
| Bhaskar Rao | Legend | Asst. General Manager-IT |
| Dr Susil Kumar Meher | Legend | Head Health IT |
| Dr Deepak Kalambkar | Legend | VP Infosec |
| Golok Kumar Simli | Legend | Chief Technology Officer, Passport Seva |
| Hegde Subbarao | Legend | CTO and CMO |
| Hilal Khan | Legend | VP and Operating Head- IT |
| Indranil Chatterjee | Legend | Asst. Vice President, Security and Compliance |
| Krishnamurthy Rajesh | Legend | Head – Information Technology |
| Lalit Trivedi | Legend | Head IT and CISO |
| Nikhil Kumar Nigam | Legend | Associate Director Technologies |
| Rajeev Khade | Legend | Vice President Global Information Technology |
| Ramkumar Mohan | Legend | CIO |
| Sajith Chakkingal | Legend | Head of Global Technology Services |
| Salim Sayyad | Legend | Joint Vice President IT |
| Sanjay Singh Gahlod | Legend | Head IT India and South Africa |
| Selestin Thomas | Legend | General Manager – Digital Technology and IT Infra |
| Shajy Thomas | Legend | Regional Head Of Technology – Asia Pacific |
| Sunil Pandey | Legend | Director IT |
| Sunil Sonare | Legend | General Manager – IT and Systems |
| Yogesh Dadke | Legend | APAC IT leader |
The announced winners of The World CIO 200 Summit – India edition Master category include:
| | | |
| --- | --- | --- |
| Name | Category | Designation |
| Amit Kumar | Master | Group Head IT/IS/ Application |
| Dr Chitranjan Kesari | Master | CIO and IT Head |
| Gaurav Vij | Master | CIO |
| Yogesh Kumar | Master | Head of IT and Business Applications and CISO |
The announced winners of The World CIO 200 Summit – India edition Leader category include:
Name
Category
Designation
Gaurav Vyas
Leader
Jekson Vision, Head IT
Pradeep More
Leader
Schueco India Pvt Ltd

– IT Manager

Kishor Gojiya
Leader
Head – IT
---
Highlights of The World CIO 200 Summit:
Grand Finale with 2 days of networking, collaboration, knowledge sharing and CAC.
Tech Talk: The most novel way of making your presentations come alive.
DX Inspire Awards: Global 20 Recognition for the most Transformative Projects and Solutions.
What is new this year
The 2021 edition is ready to build roadmaps for strategic decision making and identify yardsticks that are the key drivers of growth in the digital world. While CIOs can pick on sessions to help them fast-track their growth, the solution providers can build their brand, present their solutions and network with 500+ relevant C-level IT decision-makers flown in from 14 countries.
The top CIOs from respective countries will arrive in the United Arab Emirates for the grand finale in an all-expense-paid trip, on 5-6th December 2021 at Topaz Ballroom, Fairmont Ajman. The event will also be part of the Dubai Expo 2020.
---